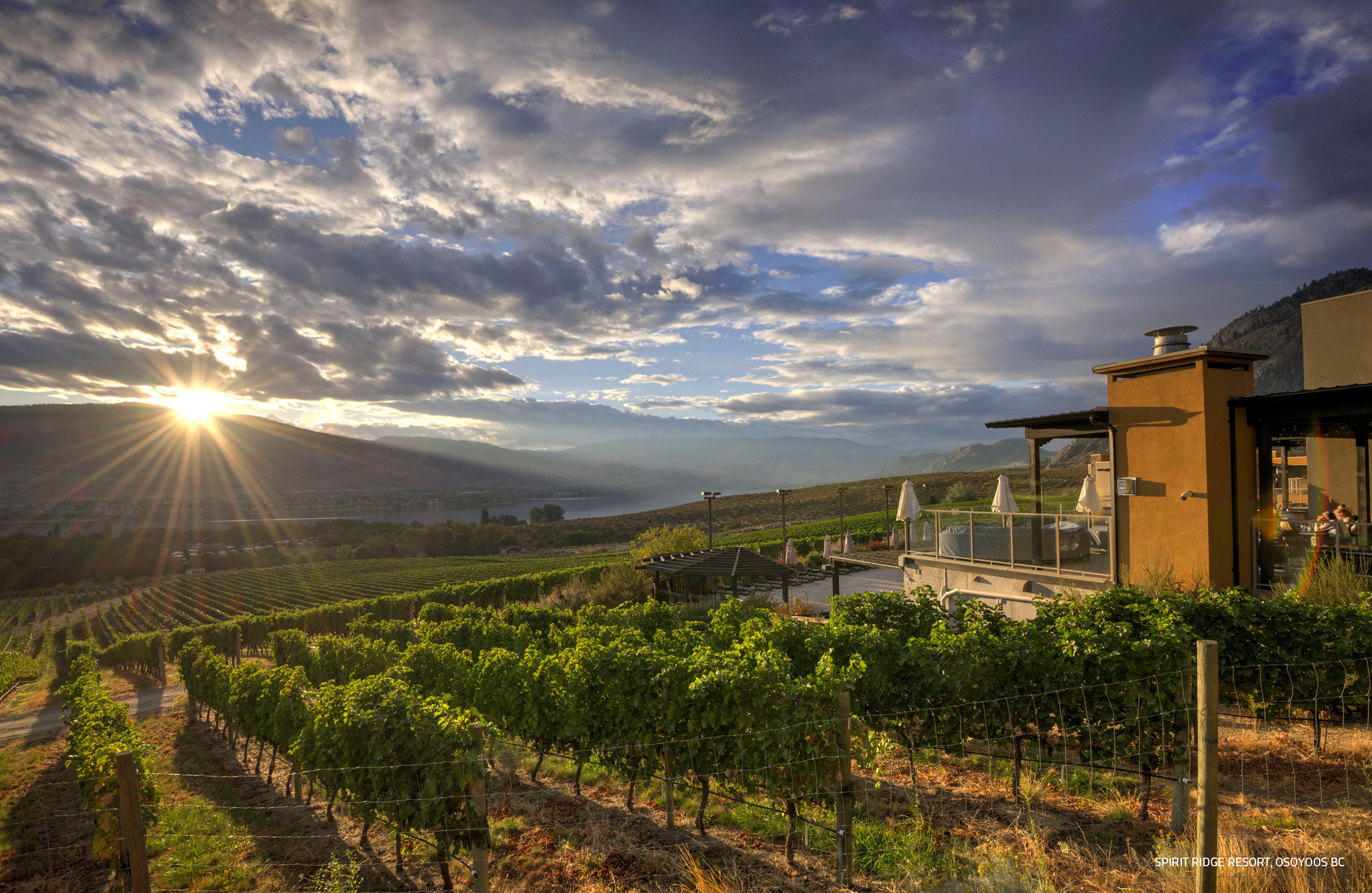 Meet the Insiders Outside- Okanagan: Culinary. Wine. Eco. Indigenous (4 Days/3 Nights)
This exclusive adventure offers the Okanagan experience like few can. Meet and chat with Okanagan Insiders like Chief Louie of the Osoyoos Indian Band, involved in redefining wineries. Discuss biosphere tourism and wines with one of Canada's seven Masters of Wine. Enjoy the company of celebrity chefs who are redefining farm-to-table gourmet dining. Top it off with amazing indigenous ecotours.
With its incredible biodiversity and perfect agricultural climate, the Okanagan Valley has drawn scientists, farmers, culinary and wine entrepreneurs who have a deep respect for the environment. Add to that, the Okanagan's sun-baked desert, that includes one of the 4th most endangered ecosystems in Canada, which has recently become the first designated Biosphere Tourism destination in the Americas! With your personal Driver Guide you will be able to discover and treasure all the secrets of Canada's only desert as well as the region's incredible scenic mountains, lakes and rivers. Originating in Vancouver, or if you prefer Kelowna or Penticton, prepare to enjoy 4 glorious days/3 nights (extended option available of up to 6 days/5 nights) staying at the renowned Spirit Ridge Unbounded Collection by Hyatt, with its popular Nk'Mip Winery right on site. Over the 4-6 days your group will visit and tour 8-10 of  some of the top-rated wineries in Canada, for many of these you'll be escorted by 1 of only 7 Masters of Wine in Canada and learn about the history and future of the Okanagan Wine Industry including the Okanagan's push as world leaders in Biosphere Tourism. Meet privately for an informal conversation with Chief Louie of the Osoyoos Indian Band (OIB), one of the most successful bands in North America and hear stories of their culture – past, present and future. Hear about the Osoyoos Indian Band development of the Spirit Ridge Hotel property and Nk'Mip Winery. Learn about the origins and visit District Wine Village OIB's world class wine, food and entertainment. As you hear the fascinating stories, your personal Driver Guide will take you to relish some of the "got-to-go-to" incredible dining options and discover some exclusive farm-to-table gems of the culinary world, incredible food, made fresh and mainly sourced locally, including ingredients from their own family farms. Fortunate adventurers will enjoy the company of world-class chefs and their stories, especially those who are redefining sustainability with farm-to-table gourmet dining like Chef's Table Backyard Farm, as well as the likes of Covert Farms Family Estate, a third-generation organic farm and winery. Top all this off with authentic indigenous ecotours including one to a sacred lake, a revered place of healing for centuries with its fascinating colourful mineral formations. As well, enjoy eco-walks to local waterfalls, bike rides along Myra Canyon Trestle Bridge, or even learn to rock climb on Sakha Bluffs. Perhaps you just prefer to hit the beach to enjoy some sun and play some beach bocce!  We can Tailor-Make your itinerary.
Participation Requirements:
Participants must be capable of walking on sidewalks or dirt paths for up to 15-20 minutes at a time.
This Adventure CAN BE wheelchair and walker accessible.
INCLUSIONS:
Your private trained professional Driver Guide and a luxury class vehicle for 4 -6 days, up to 10 hours per day to ensure all your needs and wants are taken care of, and who can provide a myriad of stories, facts and information about the geology and ecosystems aka "terroir", the local wine and culinary industry, the local indigenous peoples and places, flora and fauna and concept of sustainability in tourism.
3-5 nights in a gorgeous fully equipped luxurious one-bedroom suite with kitchenette, living room, and deck at the renowned Spirit Ridge Unbounded Collection by Hyatt. Discover for yourself the First Nations themed property, it's marvellous landscapes and vistas, delicious food and wine that make Spirit Ridge a true wellness-centred indigenous oasis. https://www.hyatt.com/en-US/hotel/canada/spirit-ridge/ylwub
Informal and engaging Insider conversations with: Chief Louie of the Osoyoos Indian Band, 2. A Master of wine, one of only seven in Canada, 3. World class chefs and farmers who are innovating with farm-to-table and global leading sustainable culinary experiences.
Daily Full Breakfast, 2 course Lunches and 3 course Dinners from an incomparable selection of best-in-class culinary experiences. Does not include breakfast on first day, nor dinner on the last day. Does not include alcoholic beverages other than the wine tasting below.
8 thoughtfully selected winery visits & tastings plus the District Wine Village. While these can be customized to the guest tastes and desires, we do typically include these choices as we arrive from the North and are based and leave from the south: Black Hills Estate Winery, Burrowing Owl Winery, Los du Soleil, Mission Hill Family Estates, Nk'Mip Cellars, Orofino, Osoyoos Larose, Phantom Creek, Sandhill Pyramid Winery, Tinhorn Creek Winery, Quail's Gate Winery (subject to change).
1 Daily Ecotour (1-2 hours) including Nk'Mip Desert Centre & Cultural Tour, a Sacred Lake Tour with fascinating colourful mineral formations, local waterfalls or biking the Myna Canyon Trestle Bridge trail.
Hotel Features
Pet Friendly
Two outdoor pools
Two Hot Tubs
Fire Cauldron
Private Beach
Roof Top Observation Deck with amazing vistas
24 Hour Cardio Studio
Wonderful onsite dining:
The Bear, The Fish, The Root & The Berry
Spirit Ridge Courtyard Market
Footprints Beach Bar & Grill
Nk'Mip Cellars Patio
Sonora Dunes Golf Course Clubhouse
Amazing Activity Options:
Solterra Desert Spa
Sonora Dunes Golf Course
Nk'Mip Cellars
Nk'Mip Desert Cultural Centre
Indian Grove Riding Stables
Wake Pilot Watersports
For Detailed Itinerary, please contact us directly.