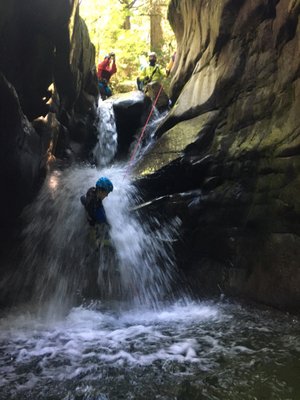 North Shore Intro to Canyoning Adventure (7 HRS)
Rain, fog, or shine, Canyoning is a perfect Adventure for any day! You'll marvel at incredible views and learn exhilarating rappelling as we recreate your own Indiana Jones-like experience venturing through world-class canyons and waterfalls, 30 minutes from downtown. Our certified professional guides will help you safely discover this one-of-a-kind experience with an emphasis on nature, skill-building and fun.
​
"EPIC!!! So much better than I even hoped. Our group of 3 had an amazing time: <they> let us go at our own pace, made us feel confident and secure throughout this adventure. Very committed to making it memorable, enjoyable and fun for us! It was a way to experience the pacific northwest in a way I've never done before! Fav parts were wading and clambering through gorgeous lush canyons, experiencing waterfalls up close and personal, and jumping into beautiful clean water!"
Lukas, Canyoning Adventure
No particular experience is required by the participants! After a brief downtown city tour filled with fascinating urban stories from your personal Urban & Eco-Guide, you'll cross Lions Gate Bridge to the North Shore Mountains and in 30 minutes arrive at Cypress Mountain. After a brief stop to to take in the incomparable views at Cypress Lookout, you will then discover the Temperate Rainforest, one of the world's most primitive ecosystems. Walking amongst incredible giant Cedars and towering Douglas Firs, you'll be escorted into the Cypress Creek watershed. Along the way, your private group will be provided with almost 2 hours of dry land coaching.  Then, after getting decked out in wet suits and best-in-class safety gear, with world-class canyoning experts, you will wade and clamber through gorgeous, lush canyons, experiencing waterfalls up close and personal, and jumping into crystal clear pools! Our Introduction to Canyoning's emphasis is on aesthetics and fun rather than difficulty. The sport of Canyoning or Canyoneering (in the US) is described as traveling in canyons, using a variety of techniques that may include activities such as walking, scrambling, climbing, jumping, rappelling (abseiling) and swimming. All safety personal equipment is supplied: harnesses, helmets, carabiners & descenders, canyoning shoes, wet suits and gloves. We'll stop for a lovely picnic lunch along the way, including hot drinks and soup. This isn't about just pushing yourself, it's also about learning to be at peace with nature and spend some quality quiet time together.  With unforgettable memories of a rejuvenating outing, you will then be escorted back to share your stories, photos and reminisce on your amazing day. 
Participation Requirements:
Class: Moderate/Intermediate
Participants need to be able to swim, should be active, agile and must be capable of waking on rough, rocky terrain and dirt paths for up to 30 minutes at a time and capable of slow and steady rappelling.
Participants must not be prone to, nor experience Vertigo, or any "fear of heights".
Not advisable for those with a respiratory or heart problem, nor is it recommended for those with significant physical disabilities. This is an active excursion, suitable for more agile guests who live an active lifestyle.
Comfortable walking shoes are required, it is recommended that rain gear is brought in the event of inclement weather.
This tour is not wheelchair or walker accessible.
Important Note:
Guests must be a minimum of 40kgs (90lbs.) and be able to swim unassisted in order to participate.