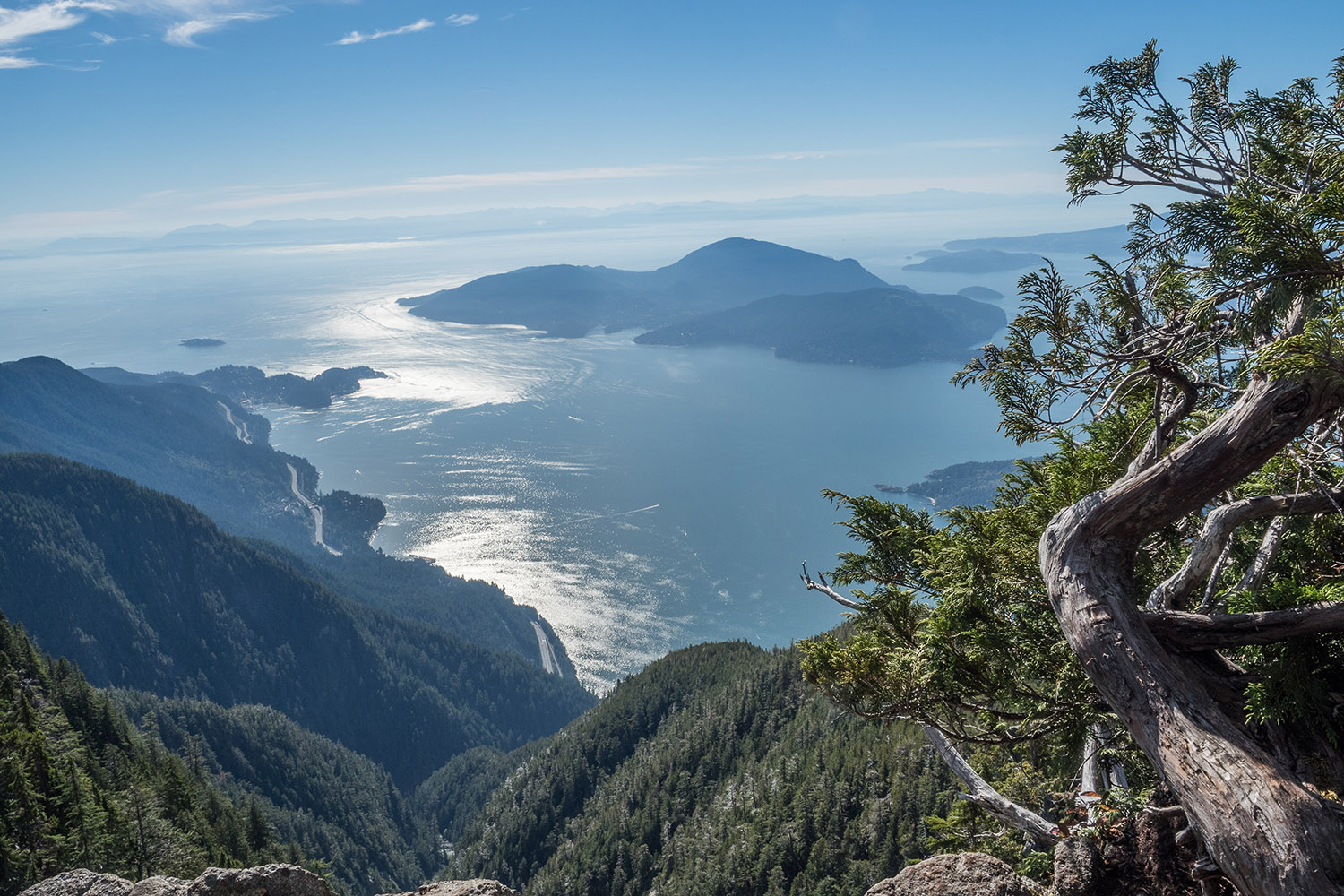 St. Marks Summit: Howe Sound Crest Trail Eco-Hike (7 Hrs)
The Howe Sound Crest Trail is a "must do" for those who love moderate class hiking, trekking. The trail is conveniently located at Cypress Mountain in West Vancouver. With your expert, professional hiking guide, you are assured an incredible guided experience to St. Mark's Summit, a peak along the Howe Sound Crest Trail that offers spectacular views for a picnic.
You will be picked up by your personal Urban & Eco-Guide in a luxury vehicle, and after a brief downtown city tour filled with fascinating urban stories and historical facts as you'll travel 30 minutes across the Lions Gate Bridge to the North Shore mountains and the temperate rainforest of Cypress Mountain, where you will discover one of the world's most primitive ecosystems and learn how all of its inhabitants contribute to its delicate balance. With your expert professional hiking guide, trekking the Howe Sound Crest Trail intermediate hike portion to St. Mark's Summit is an adventure you'll never forget and is about 2 to 2.5 hours each way.  Overall, the hike isn't too strenuous a trek with a 460 m of elevation gain. We allow a little longer adding in a leisurely lunch. From the peak you can see the tangle of islands of Howe Sound, the incredible Tantalus Range and even Vancouver Island. You'll also marvel at the towering Western Cedars, Douglas Firs & Hemlocks, as you learn how trees collaborate to survive and thrive and explore the incredible environment of the coastal mountains. You will also learn about the principles of Hiking Preparation, Hiking & Wildlife Safety, and Leave No Trace. Although there are sections of the Howe Sound Crest Trail that are considered advanced, the section for this hike is rated as moderate and very enjoyable to most active people.  You'll return from the rejuvenating outing full of incredible photos, stories and memories to share.
Participation Requirements:
Class: Moderate/Intermediate
All guests must provide and carry a small backpack. We will provide a lovely lunch and water, and a What to Bring list that will be emailed to you on confirmation.
Participants should be active, relatively agile and must be capable of walking on uneven rock and dirt paths with some rough terrain for up to 30 minutes at a time, and capable of slow but consistent walking for up to 90 minutes with some breaks. Not advised for those with significant respiratory or heart problems, nor is it recommended for those with significant physical disabilities. This is an active excursion, suitable for more agile guests who live an active lifestyle.
Comfortable hiking shoes or boots are required. It is recommended that rain gear is brought in the event of inclement weather.
This tour is not wheelchair or walker accessible.
Important Note: Guests must be a minimum of 6 years old.