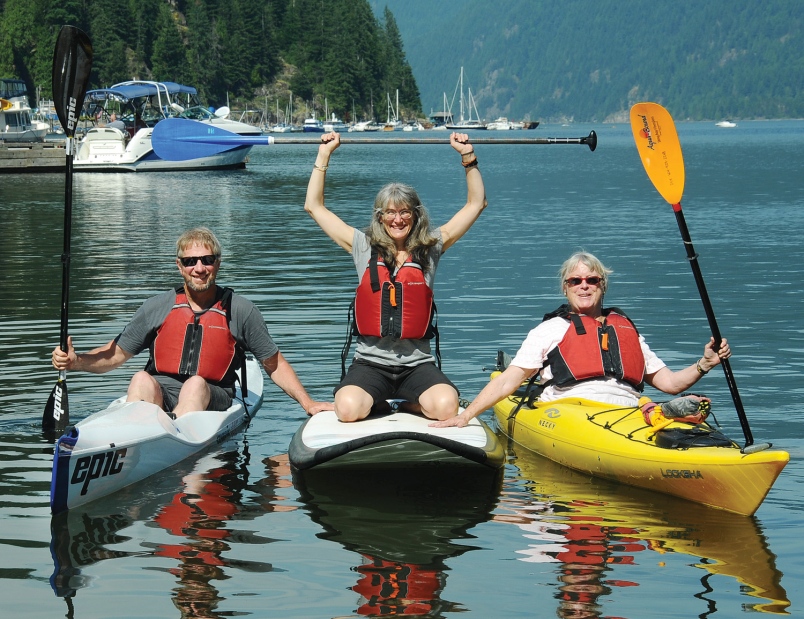 Deep Cove Kayaking & Rainforest River Canyons Adventure (7 hrs)
Whether novice or expert kayakers, this will be a memorable experience. Located at the village of Deep Cove, on the most southern glacial fjord in North America, our guests will enjoy 1-2 hrs of guided kayaking in the inlet, finishing with a North Shore Rainforest's Capilano River Canyon' salmon adventure
This excursion is an exciting adventure for anyone who is active … ideal for kayak enthusiasts, whether novice or expert.
Your personal Urban & Eco-Guide will provide interpretive commentary on a series of walking tours and scenic drives through Vancouver's beautiful North Shore, as well as a paddling experience for all skill levels. This excursion is for those who enjoy seeing some of the coastal river canyons and Deep Cove Village. You'll be fascinated at the North Shore rainforest's Capilano River Canyon' salmon adventure, and then enjoy your visit to Deep Cove located on the most southern glacial fjord in North America where you'll enjoy kayaking through this beautiful inlet.
This excursion is an exciting adventure for anyone who is active … ideal for kayak enthusiasts, whether novice or expert. After a brief downtown city tour filled with fascinating urban stories from your personal Urban & Eco-Guide, you'll cross Lions Gate Bridge to the North Shore Mountains and in 20 minutes arrive at Capilano River Canyon salmon adventure where you will discover one of the world's most primitive ecosystems, walking amongst incredible giant Cedars and towering Douglas Firs, reaching as high as 85 meters (270') and hearing the story of the Pacific Salmon.  Next, you will drive 35 minutes up the inlet and find yourself in the charming village of Deep Cove. In these calm and protected waters your expert paddling guide will provide you with all the equipment and the basics of paddling, taking you on an adventure in Indian Arm on the most southern glacial fjord in North America. During your 90-minute paddle you'll enjoy the natural beauty of the area with huge granite cliffs, coves and bays, as well as exotic waterfront mansions. As you learn about the history of the area, keep your eye out for such wildlife as seals, bald eagles, cormorants, blue herons and a myriad of other shore birds and marine mammals known to frequent these waters. After this exhilarating adventure you can relax and enjoy a Gourmet Picnic, or Picnic with Lunch Bags with incredible views of 'the Cove' or enjoy one of our Best of the Locals™ restaurant with the same incredible vistas. With unforgettable memories of an invigorating outing, you will then be escorted back to your hotel to share your stories and memories.
Best times of the year to view salmon species:
Chinook Adults (October – November)
Coho Adults (June – November)
Steelhead Adults (March – April)
Coho Juveniles (All Year)
Chinook Juveniles (March – May)
Participation Requirements:
Class: Moderate
Participants should be active, relatively agile and must be capable of waking a paved path and dirt paths with some rough terrain for up to 30 minutes at a time and capable of slow but consistent paddling for up to 90 minutes with some breaks. Not advisable for those with a respiratory or heart problems, nor is it recommended for those with significant physically disabilities. This is an active excursion, suitable for more agile guests who live an active lifestyle.
Comfortable walking shoes are required, it is recommended that rain gear is brought in the event of inclement weather.
Important Note:
Guests must be a minimum of eight years old and be able to walk and swim unassisted in order to participate. All participants must sign a waiver of liability. Dress for the weather and be prepared to be active and comfortable. Jeans are not advisable – wear leggings, non-restrictive shorts or sport pants and you will have a much better experience. Insulating long sleeved non-cotton top and bottoms are best to wear, something like Wool or similar synthetics are great – there is a great selection of clothing at the retail store Deep Cove Outdoors. We do push you out from the beach once you are in your boat and bring you back in but do be prepared to get wet. As you may get wet, please bring a towel and a change of clothes for after your paddle. We also recommend secure footwear that you don't mind getting wet, a non-cotton toque or brimmed hat, sunscreen, sunglasses with strap.  If you wear prescription glasses, we also recommend using a strap. As you may get wet on this excursion, any electronic devices (such as cell phones, cameras, etc.), as well as any valuable items must be stored in a sealable, waterproof dry bag or left on the dock. Any damage occurring to these items are the responsibility of the guests. Wildlife sightings are not guaranteed. With the exception of high winds or lightening, this excursion will operate in all weather conditions.