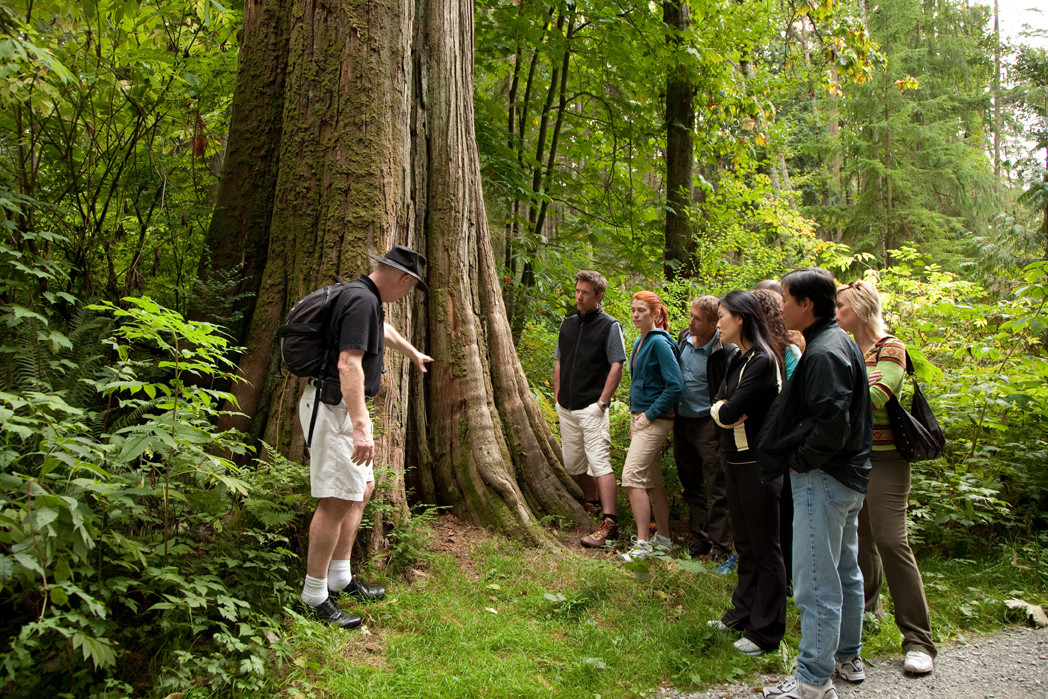 Old Growth Rainforest: Lighthouse Park & Capilano River Canyon Salmon Adventure (4-5 hrs)
Discover one of the world's most primitive ecosystems:  The Temperate Rainforest of the Pacific Northwest. Enjoy a series of mini-walking tours and scenic drives that include the National Historic Lighthouse Park, Capilano River Canyon's incredible salmon hatchery and the phenomenal Cleveland Dam.
Your personal Urban & Eco-Guide will provide interpretive commentary on a series of mini-walking tours and scenic drives throughout Vancouver's North Shore.  Enjoy the National Historic Lighthouse Park with amazing giants of the uncut old growth rainforest (various grades of trails), the fascinating Capilano River Canyon's salmon adventure and the incredible Cleveland Dam.
With your personal Urban & Eco-Guide, you will discover one of the world's most primitive ecosystems, the Pacific Temperate Rainforest, and how all of its inhabitants contribute to its delicate balance. You'll travel 30 minutes across the Lions Gate Bridge to the mountainous North Shore rainforest. Here, you'll explore 'virgin uncut-old growth' forest with 1000-year-old trees, with waves crashing against granite cliffs and the ocean breeze whistling through the boughs above. Enjoy incredible vistas of the Burrard Inlet, Bowen Island and the downtown city scape. Your first stop is at the Natural Historic Site, Lighthouse Park, with one of Canada's most picturesque lighthouses, where Orca whales have even been spotted off the point! From here you'll enjoy a guided tour along the coastal road for 25 minutes to the Capilano River Canyon.  You'll hear the story of the Pacific Salmon and from April to October, view the different species of salmon running the river to spawn. Next, you will walk up the spectacular Capilano River Canyon amongst incredible giant Cedars and towering Douglas Firs, reaching as high as 85 meters (270'). Then, after a 15-minute walk from here, you will see the awesomeness of the Cleveland Dam, supplying 1/3 of Vancouver's water and some of the cleanest drinking water in the world. Amidst this incredible setting, you have the option to enjoy a Gourmet Picnic or Picnic Lunch Bag in the rainforest, or stop at one of our Best of the Locals™ restaurants. With unforgettable memories of an invigorating outing, you will then be escorted back to your hotel to share your stories and memories.
Best times of the year to view salmon species:
Chinook Adults (October – November)
Coho Adults (June – November)
Steelhead Adults (March – April)
Coho Juveniles (All Year)
Chinook Juveniles (March – May)
Participation Requirements:
Class: Easy to Moderate.
Participants must be capable of walking a paved path and dirt paths with some rough terrain for up to 15 minutes at a time. Some elevation and inclines.
Comfortable walking shoes are required, it is recommended that rain gear is brought in the event of inclement weather.