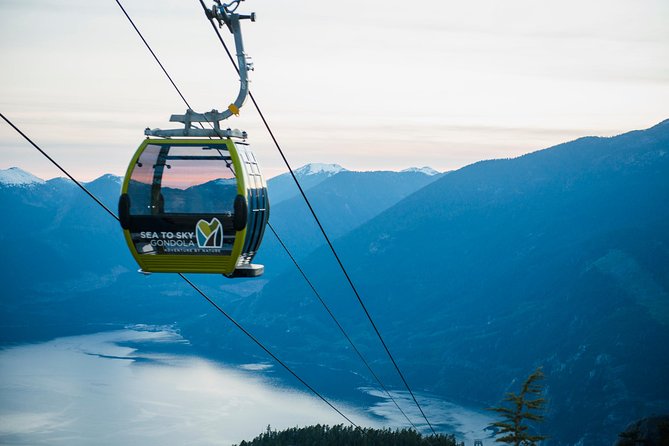 Sea-to-Sky Gondola & Rainforest River Canyons (7 hrs)
Discover stories about the indigenous peoples of the region and experience the Capilano River Canyon Rainforest and Salmon adventure. Then enjoy incredible vistas along the Sea-to-Sky Highway stopping at the Sea-to-Sky Gondola, featuring dramatic vistas of Howe Sound and the Georgia Straight.
Your personal Urban & Eco-Guide, with a luxury class vehicle, will provide interpretive commentary on a series of walking tours and scenic drives. The first stop is at Stanley Park's Totem Poles, with stories about the indigenous peoples of the region.  Then, after a short scenic drive, you'll experience at the North Shore rainforest, the Capilano River Canyon and Salmon adventure. From here your guide will take you along the incredible vistas of the Sea-to-Sky Highway stopping at the Sea-to-Sky Gondola, featuring dramatic views of Howe Sound and the Georgia Straight.
After a brief downtown city tour filled with fascinating urban stories and historical facts, you will arrive at Vancouver's famous Stanley Park. Here you'll visit the famed Native Totem Pole Garden where you'll see and hear stories of monumental, hand carved works of art that speak proudly of BC's Indigenous cultures and mythology.  From there you'll travel 20 minutes across the Lions Gate Bridge to the North Shore mountains and the temperate rainforest of Capilano River Canyon's salmon adventure, where you will discover one of the world's most primitive ecosystems and learn how all of its inhabitants contribute to its delicate balance. You'll hear the story of the Pacific Salmon and from April to October, view the different species of salmon running the river to spawn. Next, you will walk up the spectacular Capilano River Canyon amongst incredible giant Cedars and towering Douglas Firs, reaching as high as 85 meters (270'). Then you'll enjoy the 40-minute ride on the Sea to Sky Highway, rated as one of the top scenic drives in North America. You'll pass a tangle of islands as you drive up the fjord, and the towering mountains of the Coastal Range. Marvel at and enjoy photo ops at the 181-meter (594 ft.) Shannon Falls, one of Canada's most spectacular waterfalls. You'll then board the spectacular Sea-to-Sky Gondola, ascending to a viewpoint of 900 meters (2,900 feet) above Howe Sound. There, enjoy the awesome suspension bridge, viewing platforms or mountain top hike.  Amidst these incredible settings, you have the option to enjoy a Gourmet Picnic, Picnic Lunch Bag or stop at one of our Best of the Locals™ restaurants. With unforgettable memories of an invigorating outing, you will then be escorted back to your hotel to share your stories and memories.
Best times of the year to view salmon species:
Chinook Adults (October – November)
Coho Adults (June – November)
Steelhead Adults (March – April)
Coho Juveniles (All Year)
Chinook Juveniles (March – May)
Participation Requirements:
Class: Easy
Participants must be capable of waking a paved path and dirt paths with some rough terrain for up to 30 minutes at a time. Some elevation and inclines.
Comfortable walking shoes are required, it is recommended that rain gear is brought in the event of inclement weather.