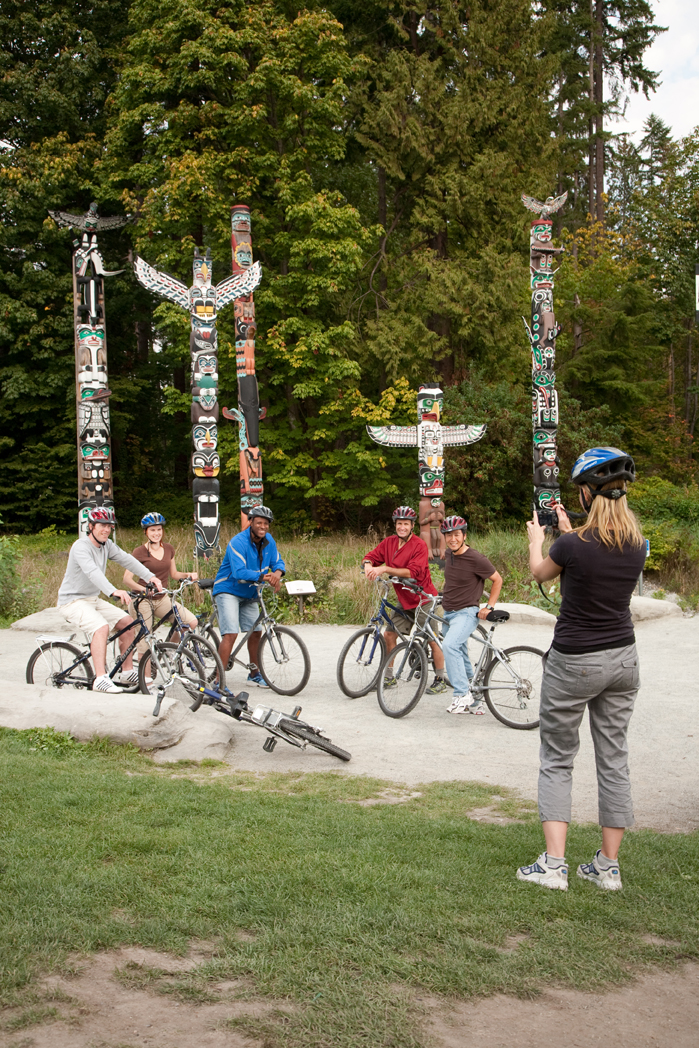 Stanley Park Seaside Biking Adventure (4 Hrs)
The seawall around Stanley Park, located in the heart of downtown Vancouver, offers a designated bike path with incredible views of the North Shore Mountains, English Bay and beyond.
Your personal Urban & Eco-Guide will escort you from your hotel and will provide insightful interpretive commentary as you ride through Vancouver's downtown, Stanley Park and False Creek.  You will experience a beautiful bike ride on the designated seawall bike path to Coal Harbour, Stanley Park Totem Poles and Beaver Lake. Then you will enjoy a rainforest ride to Second Beach, followed by the spectacular English Bay, trendy Yaletown and False Creek before returning to your hotel.
At the heart of Vancouver's downtown core, your Urban & Eco-Guide, will get you geared up for a leisurely 2 hours of bike riding, picture taking and storytelling (9 km – 6 miles). Enjoy the beautiful urbanscapes, naturescapes and rich stories around our First Nation's legacies.  Along the western edge of the city, with your guide, you'll pedal along Stanley Park's Seawall Bike Path, then through Coal Harbour & Marina and past one of Vancouver's most elegant high-rise communities. The Stanley Park Seawall Path boasts spectacular mountain, ocean, forest and cityscape views and connects you to the sounds and scenes of city and sea. Your route takes you on a paved path, stopping at the First Nations Totem Poles Garden to hear their stories.  From there you will move onto a gravel path that takes you through unspoiled rainforest and onto the beaver pond. Back on the paved bike path you will cruise past some of the city's most popular beaches, then onto False Creek and popular Yaletown. Formerly a heavy industrial area dominated by warehouses and rail yards, Yaletown has been transformed into one of Vancouver's most diverse and trendy districts.  Amidst these incredible settings, you have the option to enjoy a Gourmet Picnic, or Picnic Lunch Bag, or stop at one of our Best of the Locals™ restaurants. At the end of the journey you will bike back to your starting point, and then on to your hotel to share stories and memories of your exhilarating outing. 
Participation Requirements:
Class: Easy to Moderate.
Participants must be capable of riding a bike on a paved, gravel and dirt trail for up to 2 hours with numerous breaks. There is no rough terrain biking. Comfortable walking/biking shoes are required, and it is recommended that rain gear is brought in the event of inclement weather.