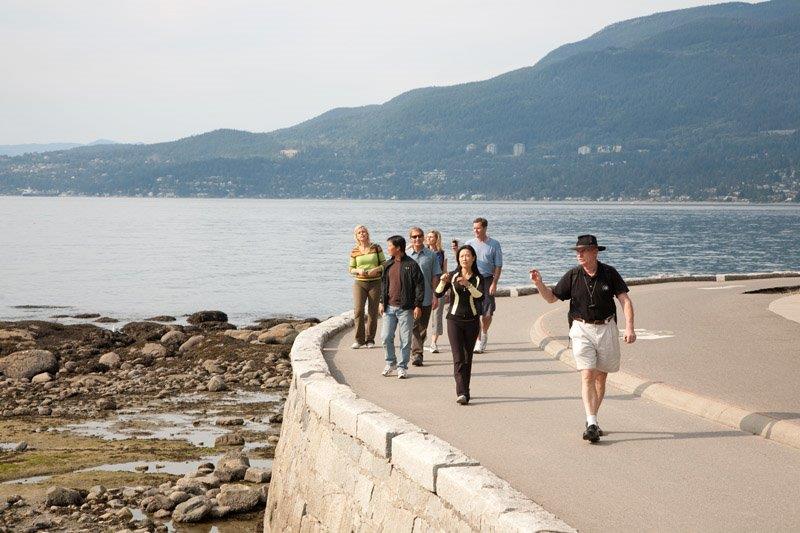 Vancouver Naturally Urban Walking Adventure
Your personal Urban & Eco-Guide will captivate you with interpretive stories on a leisurely walking tour throughout Vancouver's downtown core. Enjoy the stunning enclave of Coal Harbour, Stanley Park – one of the largest urban forests in North America, and its spectacular Totem Poles and vistas, beautiful English Bay, trendy Yaletown, cultural Chinatown, historic Gastown, and Robson Street Shopping District.
Commencing at your downtown location, this excursion is perfect for those who want to explore the "different urban faces" of culturally diverse Vancouver and see some of our most iconic natural vistas. Discover the cosmopolitan residential area known as Coal Harbour, with incredible vistas of the North Shore. From here you will continue on to Vancouver's famous Stanley Park, a 1000-acre peninsula of rainforest with old-growth trees in the heart of the city.  Your stop here will be at the famed Native Totem Pole Garden, also featuring urban-scapes and viewpoints of Vancouver's Harbourfront.  Then it's off to English Bay, where, on a clear day, you are able to see beautiful Vancouver Island and always enjoy the views of the west side of Vancouver. You'll continue onto popular Yaletown, which in the 1980's was a heavy industrial area dominated by warehouses and rail yards but is now transformed into one of Vancouver's most diverse and trendy districts. From there you'll head off through Chinatown, with a stop for some snacks at T&T for Chinese, or Urban Fare for other delectable.  Then you will head onto historic Gastown, the place where Vancouver began less than 140 years ago, which today still retains its historic charm and distinct independent spirit. From here, you will travel to the Robson Shopping District, filled with world-class luxury shops and local favourites. Then you'll be escorted back from a rejuvenating outing, full of memories, photos, and stories to share.
Participation Requirements:
Participants must be capable of walking on sidewalks for up to 15-20 minutes at a time.