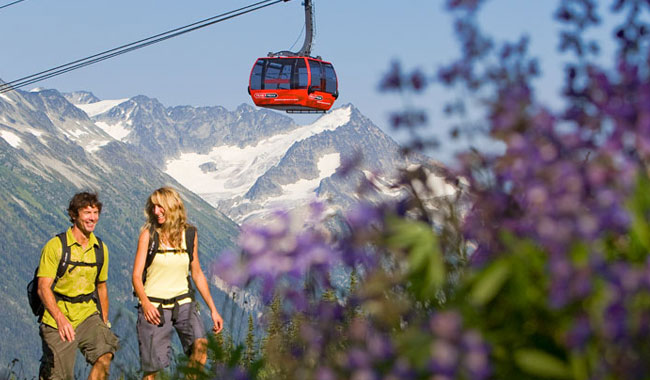 Whistler & Peak to Peak Gondola Adventure (10-12 hrs)
This day excursion is perfect for those without time for overnighting but want to experience incredible Whistler! Enjoy the amazing vistas along the Sea-to-Sky Highway and spectacular Shannon Falls with the grand finale in Whistler with its quaint village and extraordinary Peak-2-Peak gondola.
With your personal Urban & Eco-Guide, you will drive up the beautiful Sea-to-Sky highway to world renowned Whistler Village. You will marvel at incredible vistas along the way with a stop at the spectacular Shannon Falls.  Then onto Whistler to experience the dramatic Peak-2-Peak Gondola, the longest gondola network in the world.  Next, enjoy strolling through the world-class resort of Whistler's pedestrian village, with its unique shops, boutiques and gourmet dining.
The world-renowned mountain resort and 2010 Olympic Village of Whistler and the Sea-to-Sky Highway that gets you there, is well worth the 2-hour journey. The Sea to Sky Highway is rated as one of the top scenic drives in North America. With your personal Urban & Eco-Guide, you'll pass a tangle of islands as you drive up the fjord alongside the towering mountains of the Coastal Range. Marvel at and enjoy photo ops at the 181-meter (594 ft.) Shannon Falls, one of Canada's most spectacular waterfalls. Then onto Whistler where we'll transport up 1860 metres, (6069 ft) to an "otherworldly destination" aboard the Guinness World Record-breaking Whistler/Blackcomb PEAK 2 PEAK Gondola, the largest gondola network in the world.  Two mountains, hiking trails, vistas that overload the senses, with your Eco-Guide you'll enter a world of pristine natural beauty and the home of a variety of species including eagles, hawks, pika, marmots, hares, deer and of course, bears. Wildlife viewing is just one part of the PEAK 2 PEAK Experience. Enjoy an optional mountain top Picnic Lunch Bag or visit one of our incredible Best of the Locals ™ restaurants. Then you'll wander the enchanting pedestrian-only village, nestled between Blackcomb and Whistler Mountains.  Complementing the outdoor wonderland are five separate shopping and dining areas, all offering a menagerie of unique shops and upscale boutiques. At the end of the afternoon, with unforgettable memories of an invigorating outing, you will then be driven back to your hotel in Vancouver to share your stories and memories. (Floatplane return option)
Participation Requirements:
Class: Easy to Moderate
Participants should be active, relatively agile and must be capable of waking a paved path and dirt paths with some rough terrain for up to 15 minutes at a time.
Not advisable for those with a respiratory or heart problems, nor is it recommended for those with significant physically disabilities. This is an active excursion, suitable for more agile guests who live an active lifestyle.
Comfortable walking shoes are required, it is recommended that rain gear is brought in the event of inclement weather.
The gondola potion of this excursion is dependent on weather, specifically high winds, in this event, the gondola may not operate however the excursion can still proceed with an alternative itinerary and refund for the gondola ticket.